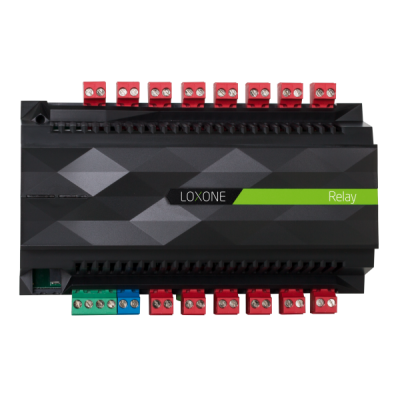 The Loxone Relay Extension is a true power house and with its fourteen 16A rated relays it will switch even the heaviest loads with ease.
-Each relay can switch up to 16A. That means you could switch 100 traditional tungsten light bulbs on just one channel!
-Unbeatable value for money. With the Miniserver you have got yourself a truly smart controller for up to 7 sets of blinds, 14 light circuits or 14 heating zones!
-Control your blinds, electric towel rails, underfloor heating, flood lights, your immersion heater and much more.
-Easy to use as always! Simply connect the Relay Extension to the Miniserver via the Loxone Link and you're ready to go
Technical details:
-Dimensions:156 x 88 x 57mm (T9 housing)
-Operating temperature:0 – 50°C (32° – 122°F)
-Protection:IP20
-Power consumption:ca. 30mA at 24V DC (all relays open)
-14 digital outputs (relays)
-250V AC 16A at cos φ = 1.30V DC 16A
-TÜV Süd certified