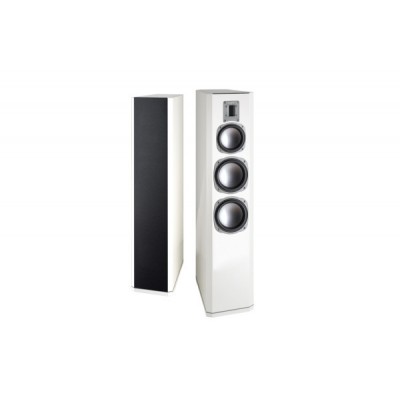 The slimline ORKAN column is a highly sophisticated yet unobtrusive speaker. It can easily be integrated into any room with the ability to fill that room with glorious high-quality sound.
Overview
Despite its comparatively slim and compact design - just over one metre in height and a mere 22 cm in width - the ORKAN 9 produces uncompromising acoustic performance. It also comes with renowned features of the AURUM series: the quadral quSENSE® tweeter guarantees a brilliant high-frequency range with excellent impulse fidelity up to 65,000 Hz. In addition, the quadral ALTIMA® midrange driver and the two quadral ALTIMA® woofers ensure transparent midrange and an enormously powerful low-frequency range that only reaches its limit at 29 Hz.
Technical Details
Type: 3-Way
Speaker type: Bass reflex
Nominal/music power (W): 200/350 W
Frequency response (Hz): 29…65,000 Hz
Crossover frequency (Hz): 260/3,700 Hz
Efficiency (dB/1W/1m): 87 dB
Impedance (Ohm): 4
Tweeter: quadral quSENSE® 50mm Aluminium ribbon
Midrange: 155 mm Ø quadral ALTIMA®
Woofer: 2x 180 mm Ø quadral ALTIMA®
Dimensions (HxWxD): 103 x 22 x 36 cm
Weight: 29.1 kg
What's in the box?
1 x AURUM ORKAN 9
Front Grille
User Instructions
Warranty Card
Self-adhesive Felt Pads